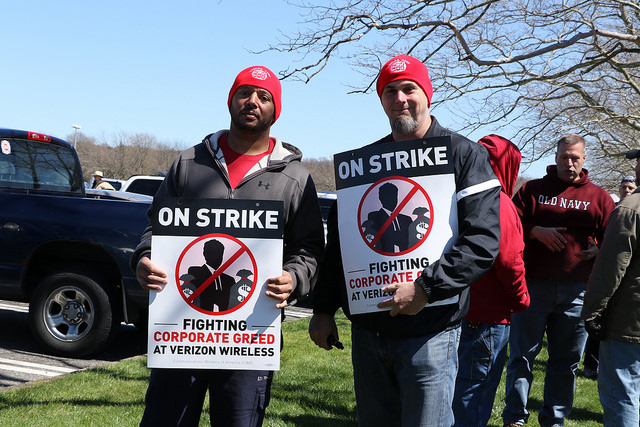 As you all know, CWA and IBEW are on strike against Verizon, the company that is making Billions a year in profits, paying no income taxes, and screwing over its workers in negotiations.
Below you will find the list where CWA picket lines will be held.  
Pickets
will be held only at Verizon Corporate Stores, not every Verizon store.  And IBEW has other Verizon locations where they are on strike as well.
Let's show our solidarity by joining picket lines and/or leafletting.  There are other suggestions below which will be helpful.
Join the rally in Trenton on Monday, April 25 at Noon at the State House.
Picketing and Leafletting: 
Below is a list of the 17 corporate Verizon wireless stores CWA is now picketing.  You can find updated information about the pickets and other events at 
standuptoverizon.com. 
If you go to a site when there are pickets, they should have a sign for you and leaflets.  If you go, bring coffee, water, snacks. If you want to send pizza to the
picket line
, I'm sure there will be a lot of love sent your way.  
241 State route 10 East, Succasunna, NJ  - Check before going

540 – 548 U.S. Highway 46, Totowa, NJ – Check before going

1538 State Route 23, Butler, NJ – Check before going

469 Route 17 South, Paramus – Mon, Tues, Wed. pickets 11 - 4

Route 3, Clifton Monday – Thursday 11 - 7

109 North Ave West, Westfield Mon – Friday 11-7

2490 US Highway 22 West, Union, NJ Mon – Friday 11 – 7   - Also Saturday morning?

7000 Hadley Road, South Plainfield, NJ  11 - 7

Mid State Mall, 314 Route 18, East Brunswick  11 - 7

Mercer mall, 3371 U.S. Hwy 1, Lawrenceville, NJ  11 - 7

55 U.S. Hwy 9, Manalapan, NJ 11 - 7

Howell  - (I need address)  11- 7

301 Rt. 36 West, Long Branch, N  11-7J

1278-12 Hooper Ave., Toms River, NJ  11-7

601 Washington Ave, Manahawkin, NJ 11- 7

2435 Route 38 East, Cherry Hill, NJ  11-7

1211 Route 73, Mt. Laurel, NJ  11 - 7
Call Verizon:
If you pay your bill online - please stop.  Send a check.  That requires accounting and we don't want to do anything that makes things easier for Verizon. 
If you have any static or noise on your land line - call  1-800-Verizon and complain.  Keep complaining until they tell you that they are going to send someone out, but if they do say that, tell them not to send a scab.  
You can also call 1-800-Verizon and try to get a human being to talk with you.  Just stay on the line and see if you can get someone.  If you do, tell them that you are a Verizon customer, and that you support the Strike and that you don't want your calls shipped overseas.