Monday, December 14, 2015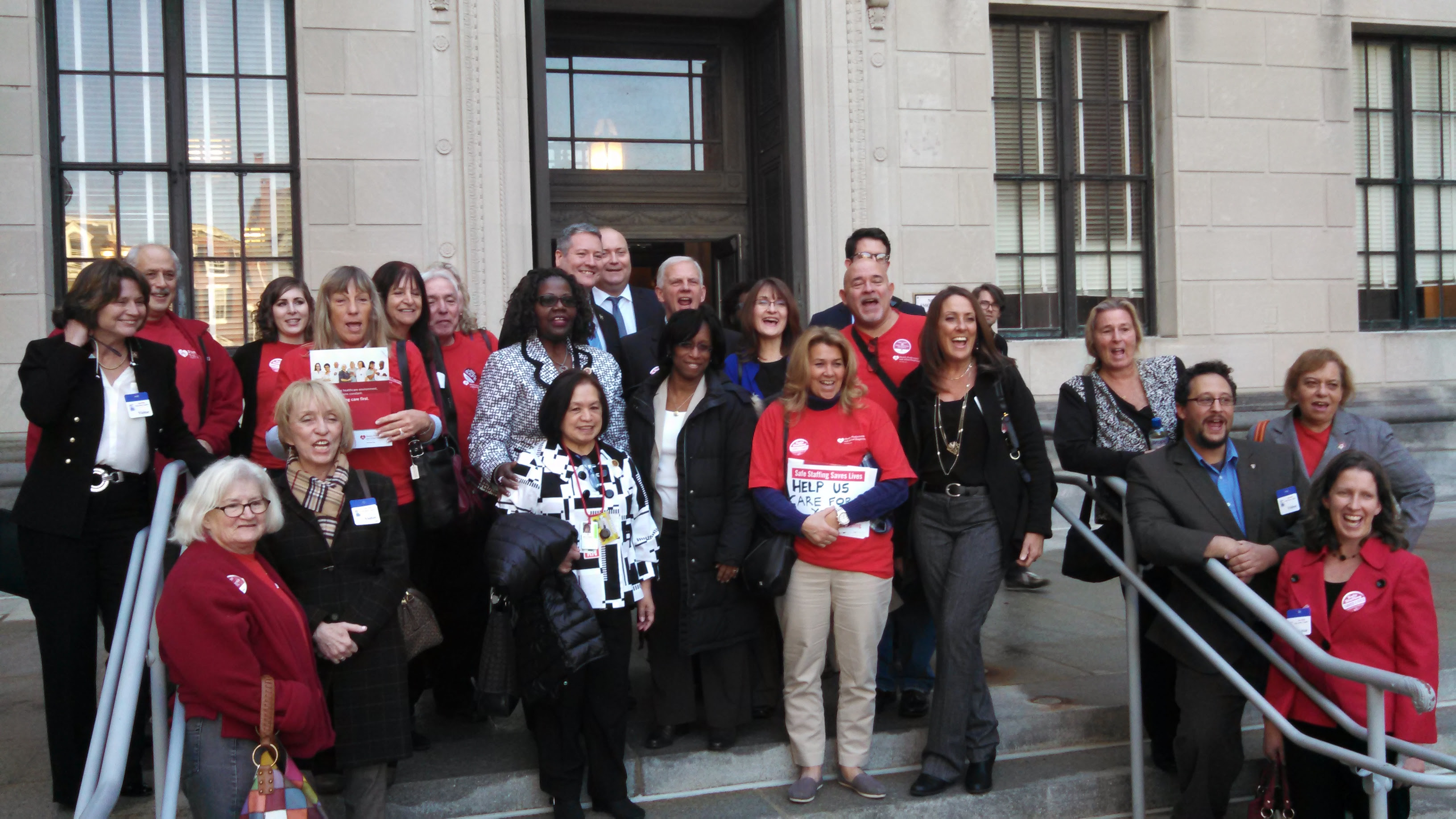 Committees in the New Jersey Senate and Assembly met Thursday to consider several bills of concern to working families. Here is a rundown of the day's legislative action:
Safe Staffing for Nurses (A-647/S-1183). Legislation establishing staffing levels for nurses cleared the Assembly Health and Senior Services Committee by a vote of 8-4. It was the bill's first public hearing. 
Voting in favor were: Assembly members Herb Conaway (D-7, Dan Benson (D-14), Tim Eustace (D-38, Jerry Green (D-22), Angelica Jimenez (D-32), Patricia Egan Jones (D-5) and Nancy Pinkin (D-18). Voting in opposition were: Mary Pat Angelini (R-11), Amy Handlin (R-13), Nancy Munoz (R-21) and Erik Peterson (R-23).
The bill establishes staffing standards for registered professional nurses working in hospitals and ambulatory surgical
facilities,
and sets minimum nurse-to-patient staffing ratios to maximize patient safety. The New Jersey State AFL-CIO joins seven health care and nursing unions in strongly supporting this bill, Assembly members Paul Moriarty (SAG-AFTRA), Tim Eustace, Shavonda Sumter and Reed Gusciora.
Union nurses have been asking for this bill on behalf of every patient in New Jersey, and every nurse and health care worker who cannot speak up. Their voices need to be heard.
Constitutional Amendment Requiring Full Pension Funding (SCR184). The Senate Budget and Appropriations Committee advanced Sen. Steve Sweeney's proposal in a party-line vote to place a constitutional amendment before voters next November. It requires the state to fully fund pensions and to make payments quarterly. The measure is sponsored by Senate President Stephen Sweeney and Sens. Shirley Turner and Linda Greenstein.
Voting in favor were: Sens. Paul Sarlo (D-36), Brian Stack (D-33), Peter Barnes (D-18), Sandra Cunningham (D-31), Jim Beach (D-6), Teresa Ruiz (D-29) and Jeff Van Drew (D-1). Voting in opposition were: Jennifer Beck (R-11), Tony Bucco (R-25), Kevin O'Toole (R-40), Steve Oroho (R-24) and Sam Thompson (R-12).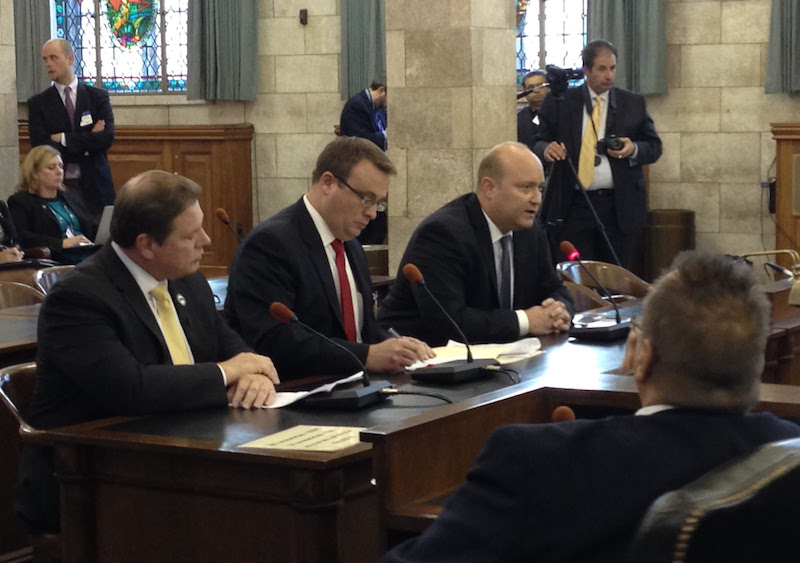 The New Jersey State AFL-CIO fully supports the constitutional amendment as the only way to force the state to abide by the law and fully fund pensions. We have long advocated quarterly payments as a fiscally sound way to eliminate skipped or partial payments, legislation the governor vetoed previously.
This simple budgetary adjustment would return millions in additional interest to our pension system and cut our unfunded liability.
Job Training for Casino Workers. This bill (S-2840/A-4103) addresses the devastating blow the closing of four Atlantic City casinos since January 2014 has had on the community and particularly the 8,300 workers who have been laid off. The bill creates a jobs program that teaches casino workers new skills and is administered through the Labor Department. The full Assembly approved the bill in March. The bipartisan vote was unanimous. Sens. Fred Madden (D-4), Dawn Addiego (R-8), Tony Bucco (R-25) and Sandra Cunningham (D-31) all voted yes.
First-responder Protections. This bill (A-1347) affirms that public safety workers are eligible for workers' compensation for injuries and illnesses that occur in the course of employment. The bill addresses exposure to serious diseases, pathogens and toxins, and provides for treatment and care of those exposed, whether the worker later contracts an illness or disease. Public safety workers covered by the bill include paid or volunteer emergency, correctional, fire, police and medical personnel.
The bill, with labor legislator Joseph Egan (IBEW 456) among the prime sponsors, cleared the Assembly Appropriations Committee on a party-line vote. Voting in favor were: Assembly members John Burzichelli (D-3), Grace Spencer (D-29), Herb Conaway (D-7), Joe Lagana (D-38), Pam Lampitt (D-6) and Gary Schaer (D-36). Voting in opposition were: Assembly members Caroline Casagrande (R-11) and John DiMaio (R-23). The bill advanced from the Assembly Labor Committee in June. The full Senate passed it last year.
We thank all of our affiliates for their hard work in support of these bills.