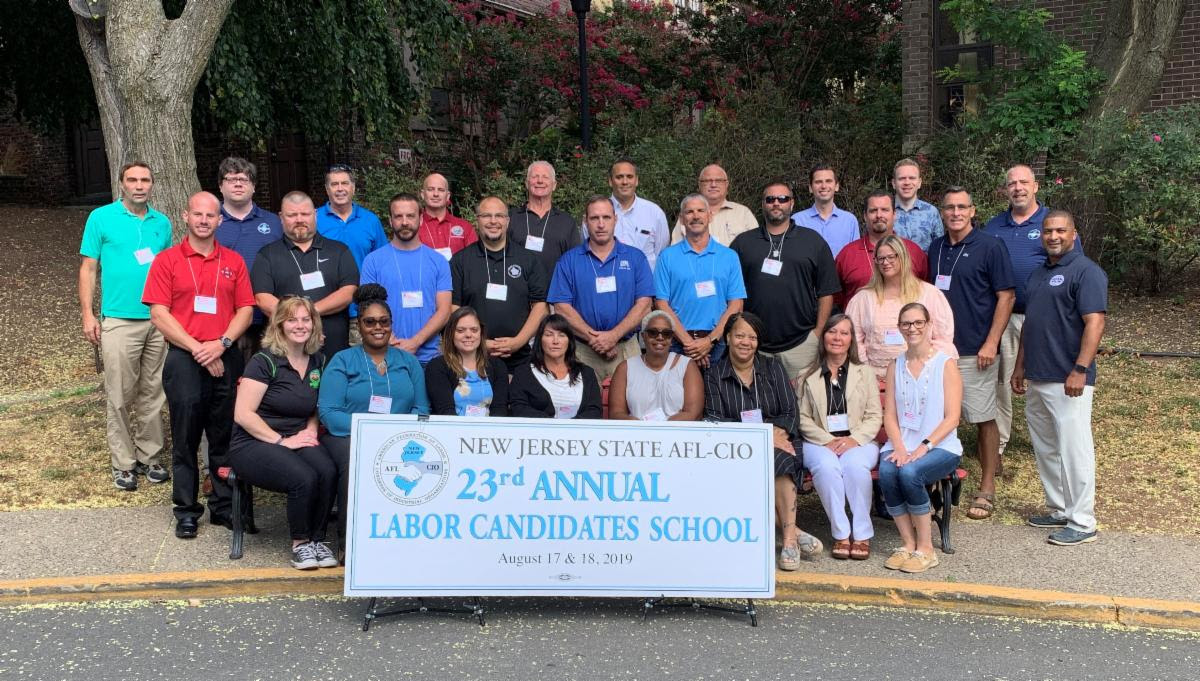 It was a monumental weekend for 28 union members who graduated from the New Jersey State AFL-CIO's 23rd annual Labor Candidates School on Sunday. The two-day immersion course, held at the union-staffed Rutgers University Inn and Conference Center on August 17 and 18, featured lectures from a number of seasoned election experts. Topics included fundraising, election law, campaign research, message development, public speaking, media relations, voter contact, volunteer recruitment, targeting and digital strategy. "To say I'm proud of the graduates of this year's Labor Candidates School would be an understatement," said Charles Wowkanech, President of the New Jersey State AFL-CIO. "It's exciting to see so many union members interested in running for elected office. These ambitious brothers and sisters understand the issues facing the working class, and once they're elected, they'll pursue a proactive and progressive labor agenda at the state and local level."
"This new crop of Labor Candidates has the full support of the State Fed, and we look forward to mentoring them during this upcoming election season," President Wowkanech added. President Wowkanech launched the Labor Candidates School in 1997 as part of the State Fed's ongoing effort to recruit, train and support union members running for elected office. Since then, the school has helped 1,031 union members get elected to local, state and federal offices. More than 150 Labor Candidates School graduates currently hold public office. Among them are Senate President Steve Sweeney, Senator Troy Singleton, Congressman Donald Norcross, Assemblyman Joe Egan, Assemblyman Wayne DeAngelo, Assemblyman Eric Houghtaling, Assemblyman Tom Giblin, Assemblyman Anthony Verrelli and Assemblyman Paul Moriarty. As officeholders, these graduates have championed policies that reflect the priorities of New Jersey's working families, such as paid family leave and raising the minimum wage. With its ever-increasing tally of election victories and 78% win ratio, the New Jersey State AFL-CIO's Labor Candidates School has become a nationwide paragon of success. In fact, many state federations now are expanding their political programs based on New Jersey's Labor Candidate training model. This includes the Minnesota AFL-CIO, which sent Field Director Pommella Wegmann to New Jersey to observe the school this past weekend. 
"Minnesota's Labor movement is excited to bring this tried and tested labor candidate training to the Midwest," Wegmann said. "The New Jersey State AFL-CIO has built the premier program in the country, and I'm extremely grateful for the opportunity to attend this school and learn from their staff."
As of now, 66 union members are running for political offices throughout New Jersey in November's General Election. For a complete list of New Jersey State AFL-CIO endorsements,
click here
.