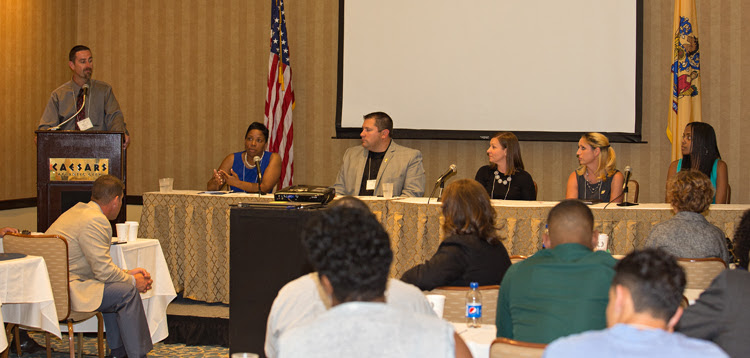 The first New Jersey State AFL-CIO Young Workers Summit held Monday, June  15, 2015. Following the summit, we were honored to have national AFL-CIO Secretary-Treasurer Liz Shuler meet and greet participants during our networking reception. Secretary-Treasurer Shuler has worked tirelessly with thousands of young workers across the nation to develop the young workers program. We at the State Federation are equally committed to cultivating the solidarity and leadership capacity of the next generation of union members. Caesars Atlantic City was packed to capacity. Over 75 young workers from 29 local unions participated in the program, harnessing theopportunity to learn from each other, better understand the labor movement, and continue building the statewide young workers program.
CLICK HERE for photos.
Young workers will also make history today as a record number of young delegates take part in the New Jersey State AFL-CIO Legislative/COPE Endorsement Conference June 16 and 17, 2015. This is a valuable opportunity that will allow our young brothers and sisters to participate in the state labor movement's democratic process as never before.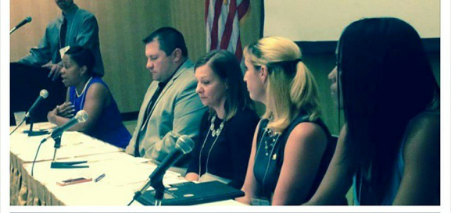 Quiana Roberson sits on the Panel of the first young workers summit at the NJ-AFL-CIO summit.
"The young workers program will be a cornerstone in the New Jersey labor 
movement, and we are laying the groundwork for a lasting structure right now," stated New Jersey State AFL-CIO Young Workers Advisory Committee Chair Adam Neuman. "This summit provided important and lasting lessons for our brothers and sisters working to grow and form their own young workers groups through their unions and Central Labor Councils."
"The participation in today's summit offers a glimpse into the huge potential of the young workers program in New Jersey that has already achieved so much," stated Passaic County Youth Engagement in Solidarity (YES) Chair Alicia Bruce. "Together, we will build a program that captures the imagination of young workers, serves as a model for our nation, and keeps the labor movement thriving for years to come."
Topics covered during the summit included labor history, legislative and political engagement, Common Sense Economics, and how to navigate the structure of the labor movement.
This summit would not have been possible without the support of dozens of affiliate sponsors, who we graciously thank for their generosity and investment in the future of our labor movement. The work that we do today, is building towards a better tomorrow.