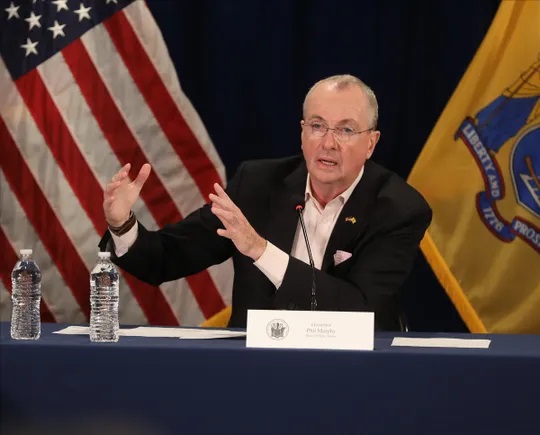 New Jersey's union members are key members of the workforce Gov. Phil Murphy called essential as he issued a stay-at-home order in the state, effective at 9 p.m. Saturday, March 21, 2020. The New Jersey State AFL-CIO agrees with the governor and thanks all frontline workers who are laboring to keep New Jersey safe and healthy during the COVID-19 pandemic.
On Saturday, Murphy ordered non-essential retail businesses to close indefinitely, while outlining specific types of businesses and operations the state considers essential.
The governor listed as essential all first responders such as law enforcement officers, firefighters, EMTs and others; doctors, nurses, therapists, other health-care professionals and lab researchers; cashiers, store clerks, and warehouse workers; construction and utility workers; repair technicians; IT analysts; janitorial and custodial staff; and certain administrative staff.
"From Day One," Murphy said, "we've made a commitment to be guided by the facts and take any action necessary to protect the health and safety of New Jersey's 9 million residents."
His key action, he said, was to sign Executive Order No. 107, telling all residents to stay at home until further notice. People may leave their homes to get groceries, to see a doctor or go to the hospital or therapist, to visit family or close friends, to go to work, or get outside for fresh air and exercise.  The state won't interfere with any federal activities, any law-enforcement actions, any media coverage of the pandemic, medical or health care, or services for low-income residents, such as food banks.
New Jersey's union members are deeply involved in all these activities.
"We know the virus spreads through person-to person contact, and the best way to prevent further exposure is to limit our public interactions to only the most essential purposes," Murphy said. "This is a time for us all to come together in one mission to 'flatten the curve' and slow - and eventually halt - the spread of coronavirus."
Social distancing of six feet or more is still necessary, and Murphy's order prohibits large parties and celebrations, unless specifically allowed under Order 107. Immediate family members, caretakers, household members and romantic partners may get closer than social distancing rules allow.
A statement from the Governor's Office said the following types of businesses would remain open:
Grocery stores, farmer's markets and farms that sell directly to customers, and other food stores, including retailers that offer a variety of foods comparable to what exists at a grocery store;
Pharmacies and medical marijuana dispensaries;
Medical supply stores;
Gas stations;
Convenience stores;
Ancillary stores within healthcare facilities;
Hardware and home improvement stores;
Banks and other financial institutions;
Laundromats and dry-cleaning services;
Stores that principally sell supplies for children under 5 years old;
Pet stores;
Liquor stores;
Car dealerships, but only for auto maintenance and repair, and auto mechanics;
Printing and office supply shops;
Mail and delivery stores.
The governor's order requires all businesses or nonprofits to set up remote working arrangements for their staffs or, if the work cannot be done remotely, that the businesses work with minimal staffing to perform their core functions. Previous changes to everyday life remain in place, including the shift of schools to remote instruction, the closure of recreational and entertainment businesses, and having all restaurants and taverns operate by delivery and takeout only.
Murphy also signed Executive Order No. 108, which states that Order 107 supersedes all county or municipal restrictions unless they are stricter than the state order. And he announced the launch of New Jersey's one-stop coronavirus website,
https://covid19.nj.gov
which is designed to be an easy-to-use source of answers, updated often.
For a copy of Executive Order No. 107, click 
here
.
For a copy of Executive Order No. 108, click here.